Rereading my notes from Milan Kundera's Slowness got me thinking about how much of what Kundera discusses seems to apply to politics in Britain today. In Slowness, the fictional historian Pontevin talks at length about his 'dancer concept.' According to Pontevin, all politicians are dancers and dancers are often in politics. A dancer is different from a regular politician because a dancer does not seek power but glory:  '[H]is desire is not to impose this or that social scheme on the world (he couldn't care less about that) but to take over the stage so as to beam forth his self'.
To excel at being a dancer you must strive to keep others out of the limelight through 'moral judo'. You challenge the world to determine who is the most moral and you try to make sure that you are constantly putting your opponent in a morally difficult position. The dancer denounces all secret deals and will lay out his plans openly, publicly whilst trying to trip up his opponent by putting them in a moral quandary loudly and publicly. In Kundera's example, a dancer surprises his opponent with: 'Are you prepared right now (as I am) to give up your April salary for the sake of the children of Somalia?' The opponent has a choice: refuse and discredit themselves as enemies of children or say yes in a way that is personally uneasy and plays out unfavourably in the media.
This got me thinking greatly about the political stage that Boris Johnson and Jeremy Corbyn have been using as a dance mat. Brexit has turned into a moral issue. 'Will you, Corbyn, honour the results of the referendum?' He can either refuse and discredit himself the enemy of democracy, or he can say an uneasy "yes" and cease being leader of the opposition (giving up his time on the floor). 'Will you, Johnson, agree that parliament is sovereign?' He can either refuse and discredit himself the enemy of parliamentary democracy, or he can say "yes" and risk losing the populist moral high ground. In each case, the purpose of these questions is not about finding the right answers but about keeping the opponent off the stage, confined to the morally inferior backstage.
Corbyn and Johnson are also dancers because for both of them it is seemingly about glory, about maintaining one's role on the stage and not about imposing their own actual ideas on the world. Corbyn is (and has always been) a eurosceptic. He was openly and publicly anti-Europe in previous decades. He opposed Britain's entry into the EEC. He opposed the Maastricht and Lisbon Treaties and he supported an earlier referendum on leaving the EU.  Through his quiet inaction during the referendum he remained anti-EU, despite claims to the contrary. He is also forced into morally dubious corners in the House of Commons when he is attacked for not honouring a referendum result he actually supports.
Johnson's entire premiership so far has been about dancing on stage, making his opponent defend their moral stance rather than actually imposing his own stance (which I don't think even he knows). Actually, I think Johnson could be seen as a true dancer. A dancer throughout his whole life and not just during his time in politics. The challenges to Corbyn ('You great big girl's blouse') and the disingenuous actions towards the EU whilst withholding any of his proposals all seem to be attempts to keep himself on the stage. His disappearance act with Prime Minister Xavier Bettel and the protesters in Luxembourg can be seen as a way of making sure that he jealously guards the stage. One that backfired thanks to Bettel's quickstep.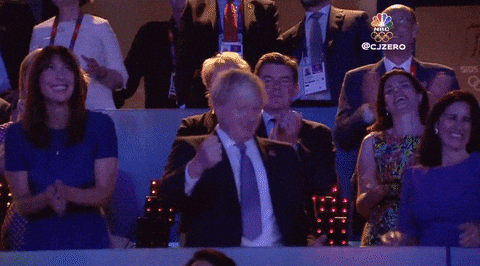 Of course, it is not just these two. Dancers have been a prominent feature in British (Western) politics for a while since Kundera started writing. Theresa May was Corbyn's ultimate dance partner, tapping her feet to the Leaver's tune when for years she had been humming to the Remainer's. Cameron and Blair are dancers in their own idiosyncratic ways. Aspects of Kundera's concept seems to apply — however, one aspect that Kundera misjudged is the fact that a dancer doesn't need to be irreproachable. They just need to loudly pretend they are. And as long as they are pointing at someone else's moral inferiority we can forgive (or perhaps forget) their past moral transgressions.
I'm not saying there is (this is just pontificating in the dark) but if there is anything to Kundera's dancer-concept in politics, can someone change the record soon?