When I started my MA in Creative Nonfiction I thought I would go back to some of the books that got me interested in reading when I was younger. One of the first books I remember reading and enjoying as a child was Alice's Adventures In Wonderland by Lewis Carroll. First published in 1865, Alice's Adventures In Wonderland is one of the best, and most famous, examples of literary nonsense. And anyone who has read my history work knows that I love nonsense.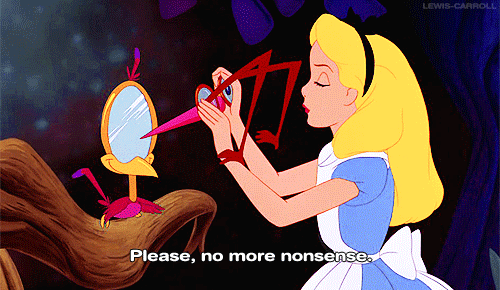 Alice's Adventures In Wonderland is about a young girl who follows a rabbit down a hole and falls into a fantasy world where almost everything in the environment seems to affect her. What she drinks, eats and uses changes her height, size and place in the world. The world is populated by wonderful anthropomorphic and preposterous creatures such as the well-dressed White Rabbit who is always late or the mouse who gets spooked when Alice mentions her cat. The wordplay throughout the book makes it appealing to both children and adults – when Alice and the animals get wet they listen to a dry lecture on history (not one of mine!) before getting involved in a caucus race.
Lewis Caroll shows himself to be a very talented writer, capable of creating multilayered scenes and he demonstrates considerable proficiency as a prose writer and as a poet. Absurd in all cases but very proficient and even capable of making puns in multiple languages. Even the most absurd moments have some strange connection to logic: mathematically speaking. Better people than me have analysed Carroll's work and found several allusions to equations that serve as thinly veiled criticism on 'new maths'. All beyond me.
I was surprised by how well Alice in Wonderland held up after 25 years or so. There is something wonderfully relatable about Alice, someone who is aware of the absurdity of her actions and yet is powerless to change it. She knows that crying is not going to solve anything – in fact, it makes it worse by flooding the room she's trapped it with her tears – and yet she cannot help it.
"I wish I hadn't cried so much!" said Alice, as she swam about, trying to find her way out. "I shall be punished for it now, I suppose, by being drowned in my own tears! That will be a queer thing, to be sure! However, everything is queer to-day."
The absurdity is appealing and there's a great deal of truth in even the most preposterous phrases and situations as Alice struggles with the very concept of her own identity. Is she the same person she was in the morning? Are any of us? Not to be guilty of anachronisms, but there is a brilliant postmodern quality to Alice and the whole world that Caroll created.
If anyone else is looking for books to read under isolation I would recommend a trip down the rabbit hole and into memory lane. The whole world is mad at the moment, so a little more absurdity won't hurt.
The best line in the book?
"I don't think——" "Then you shouldn't talk.".